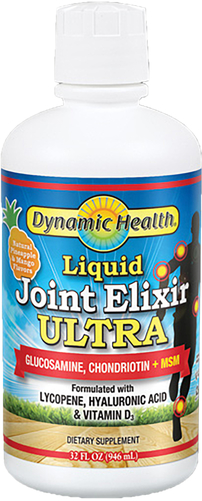 Tekući eliksir za zglobove - Glukozamin chondrotoin i MSM, 32 fl oz (946 mL) Boca
Kataloška cijena:
HRK kn 151.03
Naša cijena:
HRK kn 113.09
(25% popusta)
Vaša ušteda:
HRK kn 37.94
Činjenice o dodacima
Veličina obroka:
1 fl oz (30 ml)
Količina
po obroku
% Dnevna
vrijednost
(DV)
Calories
20
Total Carbohydrate
5 g
2%
Sugars
3 g
†
Calcium
30 mg
3%
Zinc
1 mg
9%
Sodium
10 mg
<1%
Glucosamine
1,500 mg
†
Chondrotin
1,000 mg
†
MSM
500 mg
†
Milk Thistle
10 mg
†
Horsetail
10 mg
†
Lycopene
10 mg
†
Ionic Trace Minerals

Calcium,Neodymium, Carbon, Chloride, Silicon, Rubidium, Vanadium,Potassium, Nickel, Cobalt, Boron, Yttrium, Strontium, Cerium, Lithium, Thalium, Palladum, Lanthanum, Ytterbium, Rhenium, Phosphorus, Thorium, Osmium, Flourine, Bromine, Thulium, Gadolinium, Beryllium, Gold, Titanium, Dysoprosium, Samarium, Caesium, Zirconium, Iodine, Erbium, Praseodymium, Ruthenium, Tin, Scandium, Terbium, Selenium, Germanium, Holmium, Gallium, Hafnium, Tellurium, Lutetium, Bismuth, Induim, Molybdenum, Niobium, Barium, Rhodium, Europium, Tantalum, Tungsten, and silver.

50 mg
†
Drugi sastojci:
Tripled Filtered water, Red Beet Invert, Organic Aloe Vera Juice (Powder), Pectin (Citrus), Guar Gum, Citric Acid, Curcumin Powder, Natural Pineapple and Mango Flavors and Potassium Sorbate.
Upute:
Take 2 Tablespoons (1 fl oz) daily, preferably in the morning or as directed by your health care professional.
UPOZORENJE:
Tamper Resistant - Do noy use if seal is broken
Druge informacije:
Store at room temperature * Refrigerate after opening
BPA Free
† Postoci dnevnih vrijednosti temeljeni su na prehrani od 2000 kalorija