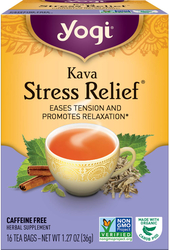 Kliknite na sliku da biste je uvećali
Kava Stress Relief čaj, 16 Vrećice čaja
Kataloška cijena:
HRK kn 35.94
Vaša ušteda:
HRK kn 10.11
Naša cijena:
HRK kn 25.84
(28% popusta)
Činjenice o dodacima
Veličina obroka:
1 tea bag (Makes 8 fl oz)
Količina
po obroku
% Dnevna
vrijednost
(DV)
Kava Root Extract
78 mg
†
Kavalactones (30%)
23.4 mg
†
Proprietary Blend of Herbs:
1,961 mg
†
Carob Pod †
Indian Sarsaparilla Root †
Organic Cinnamon Bark †
Organic Ginger Root †
Cardamom Seed †
Stevia Leaf †
Drugi sastojci:
Organic barley malt, natural hazelnut flavor, natural cinnamon oil, natural licorice flavor.
Preporuka primjene:
Get the Most Out of Every Cup
Bring water to boiling and steep 5 to 10 minutes. To help melt away the stress, enjoy a daily cup of Kava Stress Relief. For a stronger effect, use 2 tea bags. On especially challenging days, drink 3 to 4 cups.
UPOZORENJE:
Ask a healthcare professional before use if you have or have had liver problems, frequently use alcoholic beverages or are taking any medication. Stop use and see a doctor if you develop symptoms that may signal liver problems (e.g., unexplained fatigue, abdominal pain, loss of appetite, fever, vomiting, dark urine, pale stools, yellow eyes or skin). Not for use by persons under 18 years of age or by pregnant or breastfeeding women. Not for use with alcoholic beverages. Excessive use or use with products that cause drowsiness may impair your ability to operate a vehicle or heavy equipment.
† Dnevna vrijednost (DV) nije utemeljena.
Povezani proizvodi