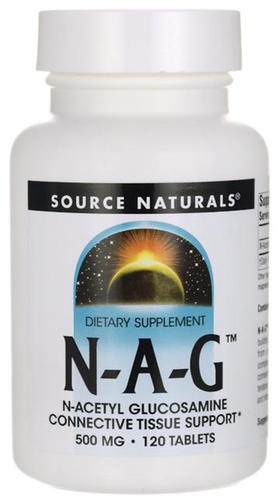 N-A-G ( N-acetil glukozamin), 500 mg, 120 Tablete
Veličina obroka:
1 Tablet
Količina
po obroku
% Dnevna
vrijednost
(DV)
N-Acetyl Glucosamine
500 mg (per serving)
†
Drugi sastojci:
Sorbitol, stearic acid, colloidal silicon dioxide, and magnesium stearate.
Contains shellfish (shrimp and crab).
Contains no yeast, dairy, egg, gluten, soy or wheat. Contains no sugar, starch, salt, preservatives, or artificial color, flavor or fragrance.
Preporuka primjene:
1 to 3 tablets daily.
UPOZORENJE:
If you are pregnant, may become pregnant, breastfeeding, or regularly taking any drug such as acetaminophen, warfarin (Coumadin), or heparin, consult your health care professional before using this product.
Do not use if either tamper-evident seal is broken or missing. Keep out of the reach of children.
† Dnevna vrijednost (DV) nije utemeljena.