Mirisno ulje kože, 1/2 fl oz (15 mL) Bočica s kapaljkom
Our Price:
HRK kn 19.90
(32% popusta)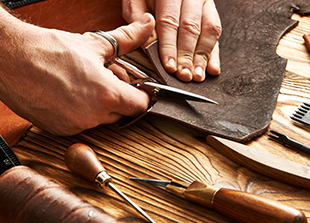 The scent of leather evokes memories of a new car, a study filled with old books, or that leather jacket you sported until it was worn out. It's a staple scent that is as masculine as it is nostalgic. Fill your home with this fragrance oil, and evoke the image of an old studio filled with leather-bound books and cigar smoke. The bittersweet will transport any guest who enters your space.
Fragrance
Rich, Spicy, Musky.
Flash Point
275°F
History of Leather
Leather is one of the oldest inventions. Used in myriad ways throughout time, it has been used to protect the skin as clothing, made into weapons to guard, and turned into containers to hold liquids. It has a longstanding history, and for that reason, is a classic scent.
How to Use Leather Fragrance Oil
Enjoy the nostalgic aroma of leather fragrance oil in candle making, incense, potpourri, soaps, deodorants and other bath and body products!
To learn how to make your own unique homemade candles, check out this simple step-by-step on The Pipe Line!
Piping Rock's Promise:
We proudly offer you everything you need for an advanced, daily Aromatherapy regiment at the lowest cost in the industry! From Essential Oils to Carrier Oils, Diffusers to Blending Bottles, Beeswax, Books & more, we have you covered. With over 100 Essential Oils to choose from, you can create your own homemade scents and beauty products. Enjoy various blends & Essential Oils Sprays or experience our revitalizing, botanical Massage Oils!
About Piping Rock's Quality:
You've found your One-Stop-Shop for Aromatherapy products at Piping Rock. Our Essentials Oils are crafted in our own "GMP Certified" manufacturing facilities. We verify Piping Rock products with third-party, FDA-registered agencies to ensure quality. Each product goes through hundreds of checks, in-process and post-production. Our outstanding Essential Oils are GCMS tested to deliver guaranteed purity. We offer various 100% Pure Essentials along with other popular, unique blends. We guarantee purity, potency, safety and innovation in everything we do.